There's nothing like island life to escape, indulge and revitalise yourself – and there's nowhere on earth quite like the sublime islands of the Indian Ocean. Find a perfect paradise where the brilliant blues of the sea and sky are broken by only by expanses of sugar-soft sand and lush greenery. For the ultimate in luxurious downtime, these breathtaking beach destinations are sure to supply the privacy you crave.
1. Four Seasons Resort Maldives at Landaa Giraavaru, Baa Atoll, Maldives
From the second you step off your seaplane, an enchanting experience awaits on this vivid garden island. Settle into accommodation offering chic simplicity and comfort along the lagoon or beachside – choose from tropical gardens, private pools, outdoor living rooms and sea-viewing lofts as a base for heady days in the sun.
Divine diving awaits, too. Situated at the western edge of the Maldives archipelago in splendid isolation, Baa Atoll is a UNESCO World Biosphere Reserve. Most of its 61 islands are uninhabited, making it a prime dive spot to explore an entrancing underwater world. Baa Atoll is overflowing with marine treasures, from the kaleidoscopic colours of stony and soft corals to marine turtles, manta rays and whale sharks.
2. One&Only Reethi Rah, North Malé Atoll, Maldives
Relax and recharge on this 37-villa island, one of the largest in North Malé Atoll, where unparalleled privacy awaits. Thanks to its tentacle-shaped shores, the One&Only Reethi Rah has six spectacular kilometres of coast to explore, with 12 pristine beaches stretching into the azure ocean beyond.
Stroll in seclusion and enjoy the truly exclusive ambience, or unwind in the award-winning spa. Steal away from the island and snorkel at the surface or dive to the depths to immerse yourself in marine treasures – one of the Maldives' best shark sites, the wreck of the Hembadhu and the Rasafari Protected Marine Area are all just a boat ride away.
3. Huvafen Fushi, North Malé Atoll, Maldives
For couples, an adults-only resort can be the perfect way to honeymoon, or simply detox from the hurly-burly of everyday life and reconnect. Tempted? Put the blissfully beautiful Huvafen Fushi on your wishlist for a sensory experience that starts with your speedboat arrival.
Revel in the romantically indulgent accommodation – choose from beach bungalows surrounded by warm, welcoming sand or water pavilions to slip straight into the big blue. Or let your butler take the strain while you plunge into your own freshwater infinity pool – life couldn't be easier.
Luxuriate in the extraordinary sub-aquatic spa, where a multi-coloured marine display adds an extra dimension to relaxation. Try sunset fishing and watch the sky's changing colours until the stars emerge as you listen to the waves lapping the dhoni. Home could be a million miles away...
4. Soneva Fushi, Baa Atoll, Maldives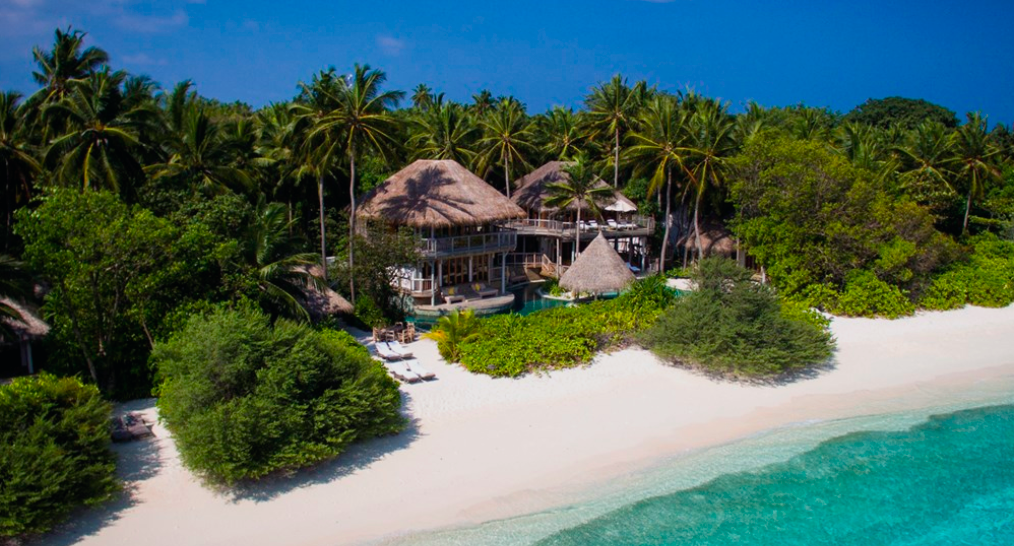 Set foot on Soneva Fushi and fall in love with this 57-villa sanctuary of holiday hideaways for discerning families – you'll already have made the toughest choice: whether to stay on the sunset or sunrise side of the island. Each villa is tucked away along sandy winding paths, with dense verdant foliage creating complete seclusion from your island neighbours.
Seductively simple, 'no news, no shoes' is Soneva Fushi's philosophy. Your family's enjoyment is always paramount, whether experiencing world-class diving, dolphin-watching from the dhoni, exploring the children's Den or consulting the island's astronomer as you stargaze.
5. Shangri-La's Villingili Resort & Spa, Addu Atoll, Maldives
There's no need to sacrifice a passion for golfing me-time at elite hideaway Shangri-La's Villingili Resort & Spa – the Maldives' only nine-hole golf course is here, waiting for you to tee off. The resort's refined tropical entertainment will work its magic, leaving you refreshed and ready to come back to reality.
Dazzling exclusive dining options include dinner in the jungle or on the jungle lagoon, barbecues and romantic dining chez vous, garden dining, a sunset meal aboard a luxury yacht or even a spa dinner for a sense of complete wellbeing. For a unique gourmet experience in complete isolation, set sail for a once-in-a-lifetime luncheon on the Equator.