Boasting twenty remarkable regions, each with their own secret treasures to discover, local dishes to devour and ancient traditions to uncover, Italy is sure to tug on your heartstrings and leave you yearning for more. Fabulous architecture, superlative landscapes and the open-heartedness of Italians themselves, here are five of the most spectacular regions in Italy...
1. Tuscany
An idyll of olive groves, vineyards, hill-towns and frescoed churches, Tuscany captures the essence of Italy in many ways and played a huge role in forming Italy's culture during the Renaissance period. Florence is bustling with tourists during high season so, if you want to avoid the crowds, head to Siena, one of the greatest medieval cities of Europe and almost perfectly preserved. And Palio, Pisa, Lucca, Arezzo and Cortona are as fine an introduction to Tuscany as you can get, with their own fair share of beauty and atmosphere.
2. Sicily
The gorgeous island of Sicily continues to seduce travellers from far and wide, ringed by the sparkling Mediterranean and flaunting an array of cultural treasures. Marvel at the finest surviving Doric temples, sample delicious cuisine and lose yourself in dramatically perched cliff-top villages. That's not to mention the endless stretches of sea and sand speckled with picturesque eateries serving authentic Sicilian food made with island-harvested ingredients. Think shellfish, citrus, tuna, swordfish, pistachios, almonds and ricotta.
3. Apulia (Puglia)
Italy's sun-bleached heel is well known for its ancient, whitewashed towns and extravagant Baroque architecture, stamped in stone, gold and marble and beguiled by splashes of purple bougainvillea. The Puglia regions produces about 40 percent of Italy's olive oil, so you can expect olives and dishes among the best in Italy. Dine on octopus, fresh anchovies, marinated vegetables, crusty bread and crisp local rosé.
4. Veneto
Venice, Veneto's regional capital, is famed for its canals, Gothic architecture and carnival celebrations – it's where many visitors will devote their time, but a rich variety of experiences await just an hour or two away. Escape the heat of the city and retreat to the airy and elegant villas of the Veneto countryside. Discover the beautiful Shakespearean towns of Verona and Padua, the breathtaking mountain resorts of Cortina d'Ampezzo and Belluno. Also not to be missed: the spectacular beaches of Chioggia and the sublime snow-capped Dolomite mountains.
(Source)
5. Campania
Nestled in the south of Italy, Campania brims with pastel-hued villages and aria-inspiring vistas. Bursting with history, art and culture, few corners of Europe can match this hypnotic coastal jewel. Explore the thrilling playground of rugged mountains, steaming fumaroles and other-worldly coastal grottoes. Hack across the slopes of Mt Vesuvius on horseback, sail the dazzling Amalfi Coast, or soothe your senses at a thermal beach on Ischia. Campania is home to Italy's freshest and most delectable pasta, pizza, mozzarella, tomatoes, citrus and seafood – a never-ending feast for the mind, body and soul.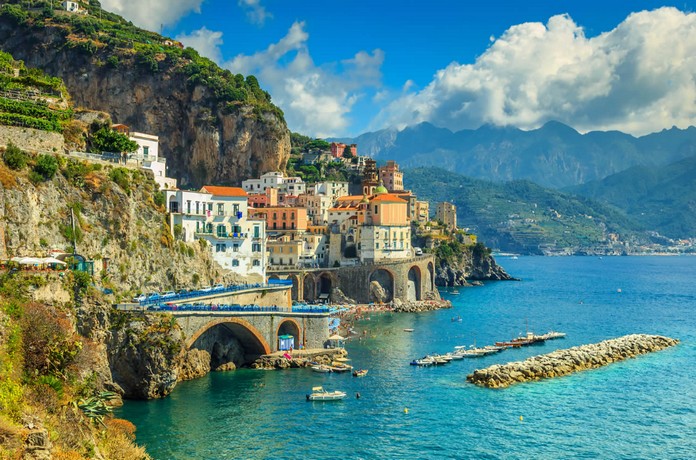 (Source)